What To Look For When Buying Outdoor Aluminum Bleachers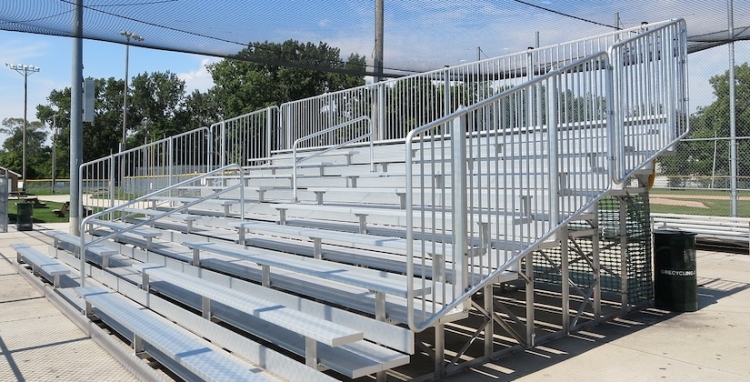 Aluminum bleachers are a popular choice for spectator seating. These outdoor bleachers are durable yet lightweight. They also come in various designs — they can be elevated or non-elevated; they can be portable and be accessible to people with disabilities.
If you're looking to install a bleacher system for your outdoor space, here are the six things you need to consider.
Number and type of audience. Outdoor bleachers are typically found in parks, schools, race tracks, sports complexes, and even military bases. And the first factor you should consider is how many spectators your specific space is planning to accommodate. To give you an idea, a standard 19-feet, five-row bleacher can accommodate up to 22 adult people. You also have to consider the type of audience you're catering to. If these are all kids, the said 22 seating capacity can increase up to 32.
Size and legroom. The standard sizes of bleachers are 19, 25, and 31 feet. Each can contain three up to 15 rows. To ensure the comfort of your spectators, the seats should be around 20% wider and has 25% more legroom than standard ones.
Quality and durability. No matter what the event is, spectators are bound to do some kind of stomping or jumping when watching. This is why your bleachers should be of high quality. When inspecting the durability of a bleacher, you have to check the strength of its framing, seat plank, and foot board. If any of these elements are flimsy, your bleacher won't last long. If your bleacher is transportable, you also have to check if it's easy to be moved securely. As a safety net, you need to thoroughly review what's included in your order's warranty policy.
Code compliance. When ordering outdoor bleachers, you also have to check if they meet the standards set by the IBC or International Building Code. Here are some important points from the code governing bleachers:
There's no foot board required for the area of the bleacher that is 24 inches from the ground. If the area becomes 30 inches and above from the ground, double foot boards are required.
Low-rise bleachers don't require an aisle.
Guards should be placed if your bleacher's last row is higher than 30 inches from the ground. This rule covers bleachers that have more than three rows.
Your budget. Aluminum bleachers for outdoor spaces are an investment. If you want to make the most of them, you have to find a supplier that can give the best value for your money. There are bleachers that are pricier than others but are proven to be more cost-effective in the long run. The price also depends on how large your bleachers are and what are the extra accessories that they feature.
Extra features. Guards and rails are well-recommended safety accessories for bleachers (especially those with five rows or higher). These should be placed around the top (the last row) and the sides of the bleachers. To prevent your audience from dropping any belongings to the ground, adding double foot boards is also advised. If you want to align them with your organization's brand, you can also have them powder-coated with your color of choice. You can also install a bleacher wrap below your bleacher, which you can use to display digital promotional materials for your group.
If you need outdoor bleachers, there are a ton of things to consider. Contact General Recreation today and let's discuss how we can help you with your needs.

Sports are not only enjoyed in the land but also in the water. You can enjoy a sunny day at the beach surfing or swim laps at your local pool.
In Rocket League, the start of a game is usually nothing more than a flurry of activity, but there are five possible starting positions, some of which are better than
Football has over the time have become a game of statistics and data, and somehow a sport that was worshipped by its spectators as a game of skills and development